WindRiver Brewing Company
Order Toll Free: 1-800-266-4677

Wine Making Supplies

---
Complete Wine-Making Kit
This equipment package is designed to make 6 gallons of wine. The same equipment can also be used to make mead. If you enjoy drinking wine you will be amazed at the quality that can be achieved using this kit in conjunction with one of the wine kits below. Contains the following items: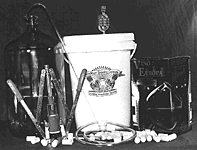 6 1/2 Gallon Plastic Fermenter with Snap Top Lid and Airlock. Heavy duty fermenter with a snap-on lid. Also comes with a drum tap that doesn't leak like other spigots.
6 gallon glass secondary fermenter.
Hydrometer for measuring final alcohol.
Stopper for glass carboy.
Racking tube for siphoning.
4' of siphon and transfer tubing.
30 Wine Corks.
Deluxe Corker.
Fermtech bottle filler.
Enjoy Home Winemaking Book
NOTE: In order to make your first wine you should select a wine kit from below. The price above only includes the fermentation equipment and accesories.

$99.95 [52 lbs] (1001)
---
---
Wine Making Ingredient Kits
These kits contain everything needed to make 6 gallons of your favorite wine. Each kit contains a vacuum sealed package of concentrated grape juice, yeast, fining agents and instructions. Great for beginning and advanced wine makers. Will yield approximately 30 750 ml bottles of wine in 28 days. For best results let age for at least 4 months before drinking.
WineXpert Wine Kits: Great wine kits at an economical price. Each kit contains 8 liters of juice and concetrate to make 6 gallons. All of the ingredients needed are included in these kits.
Red Wines-

White Wines-

Bordeaux:
Strong and full flavored with black currant notes.
[ 17 lbs]
$89.99

Riesling:
Dry and well balanced with subtle hints of peach and apricot.
[ 17 lbs]
$89.99

Liebfraumilch:
Light fruit flavor, classic German white.
[ 17 lbs]
$89.99

Cabernet Sauvignon:
Full bodied, rich, cherry and currant flavor.
[ 17 lbs]
$89.99

Chardonnay:
Spicy with a hint of fruit.
[ 17 lbs]
89.99

Pinot Noir
Smooth velevety texture with ripe fruity aroma.
[ 17 lbs]
89.99

Gewurtztraminer:
Rich in color and aroma with hints of spices.
[ 17 lbs]
$89.99

Chianti:
Velvety texture with ripe fruitiness and oak notes.
[ 17 lbs]
$89.99

Sauvignon Blanc
Bright and refreching with a clean grassy aroma.
[ 17 lbs]
$89.99

Shiraz:
Dark robust with notes of warm berries and fresh pepper.
[ 17 lbs]
$89.99

Red Burgundy:
Smooth with subtle notes of berries.
[ 17 lbs]
$89.99

Merlot:
Soft and full. Delicately laced with oak.
[ 17 lbs]
$89.99

Chablis:
Smooth and dry. Serv chilled.
$89.99

WineXpert Reserve Premium Wine Kits: These kits consist of a 10 Liter blend of 100% varietal juice and grape concentrate. The larger volume of grape juice increases the price but also increases the more subtle flavors. Packaged in a nitrogen purged bag. Contain ingredients to make a 6 gallon batch.
Red Wines-

White Wines-

Pinot Noir
Smooth velevety texture with ripe fruity aroma.
[ 40 lbs]
$139.95

Sauvignon Blanc
Bright and refreching with a clean grassy aroma.
[ 40 lbs]
$139.95

Cabernet Sauvignon:
Full bodied, rich, cherry and currant flavor.
[ 40 lbs]
$139.95

Chablis:
Smooth and dry. Serv chilled.
[ 40 lbs]
$139.95

Merlot:
Soft and full. Delicately laced with oak.
[ 40 lbs]
$139.95

Riesling:
Dry and well balanced with subtle hints of peach and apricot.
[ 40 lbs]
$139.95

Chianti:
Velvety texture with ripe fruitiness and oak notes.
[ 40 lbs]
$139.95

Chardonnay/Semillon:
Spicy with a hint of fruit.
[ 40 lbs]
$139.95

White Merlot:
Pink rose style wine, berry flavors, crisp clean finish.
[ 40 lbs]
$139.95

Barolo:
Classic Italian red. Big on flavor, deep in color
[ 40 lbs]
$139.95

---
Books On Winemaking
Complete Handbook of Winemaking- Great information for beginning and advanced winemakers. Includes some recipes
[1 lb] (1208) $13.95

Enjoy Home Winemaking- A good beginner book. Includes recipes for making many types of fruit wines
[1/4 lb] (1224). $1.99
Winemakers Recipe HandbookFrom wild grape to carrot wine there is a recipe in here for just about any kind of wine
[1/2 lb] (1253). $2.25
---
Bottling Equipment and Supplies
Wing Corker- A heavy duty corker that will work well on many types of bottles and cork sizes. [5 lbs] (1028) $19.95
Wine Corks- High quality corks for adding that professional touch to your own vintage. 30 per bag. Sizes 8 & 9. Please choose your size before adding item to the shopping basket.
[1 lb] (1031) $4.39
Champagne Corks and Wire Hoods- Packs of 25.

[1 lbs] $4.99
Fermtech Bottle Filler- Plastic bottle filler with a plastic valve to make bottling a much easier chore. Highly recommended.i

[1 lbs] $4.75
True Brew Beer and Wine Filter -: Makes brilliant wine. Includes pump, 7 liter tank, filter head and hoses. Needs 2 filter pads not included (see below). A professional quality filter for a fraction of the cost.

[5 lbs] (1901)$99.00
---
Winemaking Chemicals and Testing Equipment
Campden Tablets- Used as a sanitizer and a bacterial inhibitor as well as a preservative. 2 oz

[1/2 lb] (0526) $1.99
Acid Test Kit- For testing and adjusting acidity in wine.

[1 lbs] (1905)$7.99
Sodium Hydroxide- (4 oz) Refill for use with Acid Test kit.

[1/8 lb] (1906) $1.99
Color Solution (Phenolphthalein)- (1/2 oz) Refill for use with Acid Test kit.

[1/8 lb] (1907) $1.99
Vinometer - For testing alcohol content of a finished wine $4.99
pH Test Strips- Winemaking Range of 2.8 - 4.4. Vial of 100 [1/4 lb] (1158) $3.49
Refractometer -To measure sugar content of fruit or any solution. 0 - 32 Brix$89.99
Ascorbic Acid (1 oz.)- Can reduce oxidation as well as acidify must.

[1/8 lb] $1.50
Malic Acid (2 oz)- For acidifying ciders.

[1/8 lb]$0.99
Tartaric Acid (2 oz.)- Another acidifier.

[1/8 lb]$0.99
Grape Tannin (2 oz.)- To add astringency to red wine.

[1/8 lb] $1.99
---
Wine Yeast (dry)
Red Star Champagne-For dry wines, mead, cider and soda extract.

[1/4 lb] (0306)$0.69
Cote des Blanc-For sweeter wines and ciders.

[1/4 lb] (0352)$0.69



Montrachet-A favorite of experienced winemakers.

[1/4 lb] (0354)$0.69
Pasteur Red- Good for red wines of all types.

[1/4 lb] (0353)$0.69
Premiere Cuvee- For very high alcohol wines and meads

[1/4 lb] (0355) $0.69
---
MENU - E-MAIL US - THE OWNERS - HOME - Return to Shopping Basket or Checkout
---
©2022 Wind River Brewing