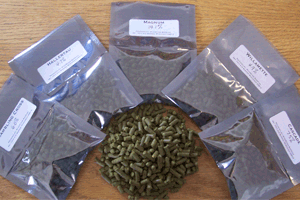 Before hops were used in beer, many types of herbs were added to balance out the sweetness of malt. The introduction of hops changed the flavor of beer forever. Hops not only add bitterness needed to balance the malt, but also act as a natural preservative, increasing your beer's shelf life. There are a wide variety available and all have unique flavor and aromatic properties.
Bittering hops are hops that are used to add bitterness to beer. Although any hop can be used as a bittering hop most often hops with a high "alpha" are used. Alpha is an index of hop bitterness. The higher the alpha number, the greater the bitterness of the hop. All current alpha ratings are printed on the package. High alpha hops allow the brewer to use less ounces to obtain bitterness. We have found that "step hopping" or adding hops in intervals during the brewing process can add a smoother and less harsh bitterness.
Aroma hops are added at the very end of the boil to give beer its aroma. Any hop again can be used for aroma but some are better suited than others. We've done our best to describe some of the aromas that are given by different hop varieties but we encourage you to experiment and find which hops you enjoy. Experimenting with different hop varieties is one of the joys of brewing at home.
Pelletized hops are the most common form used in both commercial and home breweries. Air will deteriorate the quality of hops quickly and reduce their effectiveness. By pelletizing, hops are exposed to less air, prolonging freshness. All of our hops come in oxygen barrier bags. We buy a majority of our hops directly from the processors in large quantities, so we can pass the savings on to you.
---
Hop Pellets
| | |
| --- | --- |
| Amarillo- Good bittering hop for strong IPAs and Barley Wines. Recently has become very popular for higher alpha beers. Has a floral and citrus aroma. Alpha: 8% to 11%. | |
| Brewers Gold- A English style bittering hop. Good for ales. Has a black currant, fruity and spicy aroma. Also a good hop for Belgian Lambics. Alpha: 8% to 10%. | |
| Brambling -A good hop for bittering and aroma, also good for dry hopping. Mild currant/fruity aroma. Alpha 4% to 8%. | |
| Cascade - Signature hop in many American pale ales, IPA's, Barley Wines and other hoppy beers. Can be used in Porters and Witbiers in smaller quantities. Also good for dry hopping. A very popular hop with a great aroma. Alpha: 4.5% to 7%. | |
| Centennial - A popular bittering hop with a flora and citrus aroma. First known as "Super Cascade" when introduced. Very popular in American ales. Alpha: 9% to 12%. | |
| Challenger - Good for bittering with a nice spicy aroma if used for aroma. Great hop for ESB, Bitter, Porters, Stouts and Barley Wine recipes. Alpha: 6% to 9%. | |
| Cluster - A popular well balanced bittering hop. Very nice aroma but somewhat neutral. Use as an aroma hop in ales, bittering hop for lagers, also good in Stout. Alpha: 5% to 9%. | |
| Crystal -A great aroma hop with a more pungent aroma than Hallertau. Very popular with craft brewers. Used in many lager styles and Belgian style ales. Alpha: 3% to 5%. | |
| First Gold -of British origin, a good dual purpose hop with a spicy aroma. Good for all types of ales for both aroma and bittering. Alpha: 6% to 9%. | |
| Fuggle -A traditional aroma hop originally developed in England in 1875. Mild pleasant aroma with woody and fruity notes. Used in English ales of all types. Alpha: 3% to 5%. | |
| Galena - An excellent high alpha bittering hop. Also has an excellent aroma. Good hop for more bitter ales. Alpha: 12% to 14%. | |
| UK Goldings - Signature hop in most British Ales, offers a slightly spicy aroma. A classic English hop used extensively for aroma and dry hopping. Alpha: 5% to 7%. | |
| Hallertau- A very traditional German aroma hop. Has a very mild, slightly flowery, and somewhat spicy aroma. Good for Pilsners, Bocks, and Belgian ales. Alpha 3% to 6%. | |
| Liberty -Mild slightly spicy aroma hop. A good choice for both lagers and ales. Very similar to Hallertau in profile and uses. Alpha: 3% to 5%. | |
| Magnum- Very clean bittering hop. Doesn't have the harshness of the other higher alpha varieties. Good bittering hop for both ales and lagers. Alpha 12% to 14%. | |
| Northern Brewer - A good multi use variety. Has a nice aroma. Slowly falling out of favor with people looking for higher alpha bittering hops. Alpha 8% to 10%. | |
| Nugget -Has a very herbal aroma but generally used as a bittering hop. It's higher alpha is good for more bitter Ales, Stouts and Barley Wine. Alpha 12% to 14%. | |
| Perle -Dual purpose hop used in many ale recipes. Also a good bittering hop for many lagers. Has a floral slightly spicy aroma. Alpha: 7% to 9.5%. | |
| Phoenix -A crisp and clean bittering hop. Has a pleasant aroma that is welcome in many British style ales. Alpha 8% to 12%. | |
| Saaz - Primarily an aroma hop, but can be used as a bittering hop for recipes calling for low hop bitterness. Classic hop for pilsner and many European ales and lagers. Alpha: 3% to 4.5%. | |
| Simcoe A/B- Similar to Cascade only with subtle pine aroma and a much higher alpha. Since it's introduction it has found favor with many craft brewers. Alpha: 11% to 14%. | |
| Target B - Adds a very clean, sharp bitterness perfect for English Stouts and Bitters. It's aroma is quite intense and good for aroma in ales. Alpha: 10% to 12%. | |
| Tettnanger- Has a slightly spicy, herbal aroma. A classic "noble hop". Great for bittering less bitter beers and has an excellent aroma for lagers and wheat beers. Alpha 4% to 5%. | |
| Willamette -The most widely grown aroma hop in the U.S. Has a mild and pleasant aroma and is great in Pale Ales, Brown Ales and Porter. Alpha 4% to 6%. | |