Cleaning Equipment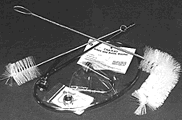 Bottle Washer- Made of brass and has a sprayer that will blast the bottoms of bottles clean. Fantastic for rinsing bottles. An indispensable item we highly recommend.

Spray Wand- is made of brass like the bottle washer but is designed to be flexible to get into those hard to reach areas.
Faucet Adapter- A garden hose adapter is needed for the spray wand and bottle washer, this item does the job.
Bottle Brush- For scrubbing gunk out of bottles.
Carboy Brush- Angled to clean the necks of carboys.
---
Cleaners and Sanitizers

One of the most important parts of making good beer is cleanliness. Sloppy sanitation practices are the biggest reason for unsuccessful batches. One of the best sanitizers is common household bleach, (make sure it is unscented). Use 1 teaspoon of bleach per gallon of water for sanitizing. For general cleaning we highly recommend B-Brite.

B-Brite- This cleaning agent has been used for years with great success. A good all purpose cleaner that can be used for all homebrewing utensils.


B.T.F.- An iodine based sanitizer that is used in the commercial food industry that is now available for home use. Needs 1 minute of contact to do its job.





One Step-Popular powdered cleaner and sanitizer