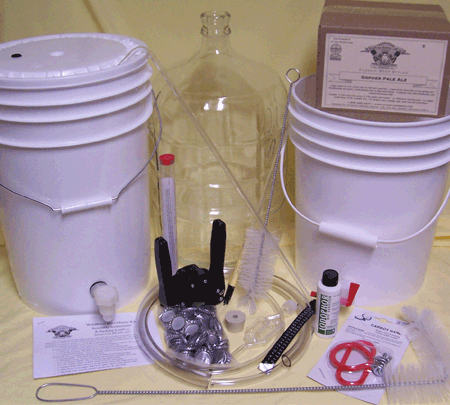 The All World BrewMasters Kit- A great way to start for the serious brewer. Contains a glass carboy and all the specialized equipment needed to do secondary fermentations. Going to make home brewing a serious hobby? The All World BrewMasters kit is the way to start. Great equipment at an unbeatable price.
Includes complete brewing instructions to get you off to a quick and successful start making beer at home. Also included are instructions on how to use the equipment included in the kit. The All-World BrewMaster kit contains equipment needed to brew 5 gallons of beer (about 48, 12 oz. bottles). Designed to last, this kit will give you many years of satisfying home brew.
The BrewMaster kit is designed for the brewer who wants to make lagers and for those who want to do secondary fermentations in glass. Extended secondary fermentation has numerous benefits including reduced bottle sediment and a cleaner looking and tasting beer. This system has been used by many award winning home brewers and has been a proven success over many years.
Both ales and lagers benefit from a secondary fermentation in glass.
For ales, a secondary fermentation is short only taking a week or two, sometimes longer for the higher alcohol ales. This period of time allows the beer to mellow and clear. This is also the time to "dry hop" a beer by placing additional hops in the carboy. Dry hopping allows you to add some very nice hop aroma without adding bitterness.
For lager beer, a secondary fermenter is used to age or "lager" the beer at cold temperatures (approximately 45°F). This lagering period allows more of the suspended sediment to fall out leaving a cleaner looking and tasting beer. This aging period also allows the many flavor components in beer to blend and mellow. Although you can make lagers without doing a secondary fermentation this step is highly recommended.
The brewing process takes about 2 hours and is very easy. You will need a 16 to 20 quart stock pot to do the boil process and some empty bottles to bottle your beer. Both the stock pot and the bottles you can purchase below. You might already have the needed pot in your kitchen. You can save bottles if you like and re-use them with your kit. Just make sure they take pry-off caps and not twist off caps.
Includes the following Items:
6 Gallon Plastic Fermenter with Snap Top Lid. Heavy duty fermenter with a snap-on lid. Also comes with a drum tap that doesn't leak like other spigots.
5 Gallon Bottling Bucket. Comes with bottling spigot.
Fermentation Lock.
Siphon and Transfer Tubing. Used to bottle and to transfer beer.
Fermtech Bottle Filler. A deluxe bottle filler imported from Canada.
Black Beauty Capper. For crimping bottle caps on bottles.
50 Bottle Caps.
Bottle Brush. For cleaning inside bottles.
Hydrometer. For testing alcohol content in your beer.
Fermometer. An adhesive temperature strip that will attach to any fermenter. A handy item especially for making lagers.
BTF Sanitizer. An Iodine based sanitizer for sterilizing brewing equipment. The best sanitizer available.
5 Gallon Carboy. For secondary fermentation.
Carboy Brush. Used to clean carboys.
Carboy Handle. Makes carrying carboys much easier.
Racking Tube. For transferring beer out of a carboy.
Stopper. For carboy.
One of the following BrewMaster beer kits- *Please select one from the pull down list below.* (If you would like to order kit not listed please give us a call and we will be happy substitute another kit. Depending on the kit their may be a small extra charge)
| | |
| --- | --- |
| $120.95 Complete with Dry Yeast | With (choose a kit) |
---
Also available with Wyeast Liquid yeast-
Yeast is an important contributor to flavor in beer. Wyeast liquid yeasts are tailor made to the beer style giving a more authentic and improved flavor.
| | |
| --- | --- |
| $124.95 Complete with Liquid Yeast | With (choose a kit) |
---
If you order the Apprentice Kit we recommend also ordering a copy of The New Complete Joy of Home Brewing at a special price! for $14.95 $11.00. This is a great book for the beginning brewer. Well written and easy to read Charlie Papazian does an excellent job of explaining the brewing process. Our instructions will tell you how to use ingredients and the equipment of brewing. This book will give you some background into the brewing process and ingredients. A must have on every brewer's bookshelf.
22 oz. Bottles - Great for cutting down bottling time. This is a perfect size for splitting a bottle of home brew with a friend. Case of 12.

---

12 oz. Bottles - The classic long neck style beer bottle. Case of 24
20 Quart Stainless Steel Brewing Pot- This pot will give you many years of brewing pleasure. We highly recommend using stainless steel. Enamel works fine but it does chip easily. Aluminum pots are not a good choice because aluminum oxidizes and can cause off-flavors. We carry the 20 quart size which is perfect for extract brewing or partial mash batches.

Back to Product List - E-MAIL US - HOME- Return to Shopping Basket or Checkout