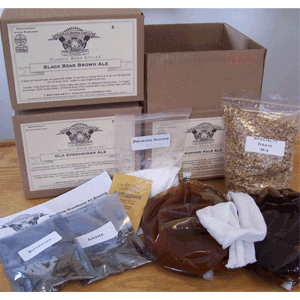 If you want to take the guess work out of figuring out what to brew and when, the Beer Kit of the Month Club is for you. We have assembled a selection of kits to satisfy any taste. These are our most popular kits that have been enjoyed by brewers everywhere. We ship the kits a couple of months before the optimal time for drinking to allow you time to brew and age them properly. This package also offers a considerable discount over buying these kits separately.
Enrollment in the club is easy. Simply pay for the first two months of your membership and we will bill your credit card monthly thereafter when we ship your kit of the month. There is no commitment to stay in the club after your second month and you may cancel at any time.
We have two plans; Plan 1 offers all Ale Kits, while Plan 2 offers some Lager Kits for those with cooler basements (50° - 60° F). If you don't have a cooler place to ferment lagers we suggest getting Plan 1 that contains only ales. For further details on the kits click on the links below. We ship the kits out during the first couple weeks of the month listed. We also will charge what UPS charges us for shipping. This will vary from month to month depending on the weight of the kit.
Call or e-mail if you would like more information. The following is a list of beer kits and when they will be sent:
Plan 1- All Ales

Plan 2- Ales and Lagers

* UPS ground shipping will be billed with each shipment *