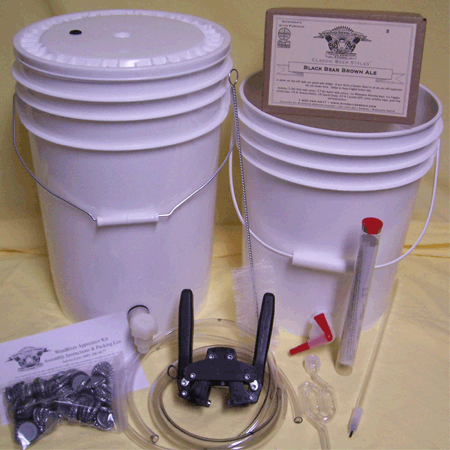 The All World Apprentice Kit includes all the specialized equipment the beginning homebrewer will need. An economical way to start homebrewing. Many thousands of brewers have started with this package. And don't worry, you can always add carboys or other brewing equipment down the road if you feel the need. Includes complete brewing instructions to get you off to a quick and successful start making beer at home. Also included are instructions on how to use the equipment included in the kit. The All-World Apprentice kit contains equipment needed to brew 5 gallons of beer (about 48, 12 oz. bottles). Designed to last, this kit will give you many years of satisfying homebrew.
The brewing process takes about 2 hours and is very easy. You will need a 16 to 20 quart stockpot to do the boil process and some empty bottles to bottle your beer. Both the stock pot and the bottles you can purchase below. You might already have the needed pot in your kitchen. You can save bottles if you like and re-use them with your kit. Just make sure they take pry-off caps and not twist off caps.
| | |
| --- | --- |
| | Our "All World Apprentice Kit"was included by Money magazine in their "Top 100 Smartest Money Moves You Can Make" in the May 2010 issue. #84, "Best Use of Beer Money." |
Includes the following Items:
6 Gallon Plastic Fermenter. Comes with a drilled and grommeted snap on lid for use with any fermentation lock. Our fermenter also comes with a drum tap that doesn't leak like other spigots.
5 Gallon Bottling Bucket. Used to hold fermented beer to make it easy to put into bottles. Comes with bottling spigot.
Fermentation Lock. To lock out outside air and bacteria during fermentation.
Transfer Tubing. Used to bottle and to transfer beer.
Bottle Filler. A flow regulator to make bottling easier.
Black Beauty Capper and Bottle Caps. This capper is a sturdy model that will endure a lot of use.
Bottle Brush. For cleaning inside bottles.
Hydrometer. For testing alcohol content in your beer.
One of the following BrewMaster beer kits- *Please select one from the pull down list below.* (If you would like to order kit not listed please give us a call and we will be happy substitue another kit. Depending on the kit there may be a small extra charge)
| | |
| --- | --- |
| $59.95 Complete with Dry Yeast | With (choose a kit) |
---
Also available with Wyeast Liquid yeast-
Yeast is an important contributor to flavor in beer. Wyeast liquid yeasts are tailor made to the beer style giving a more authentic and improved flavor.
| | |
| --- | --- |
| $63.95 Complete with Liquid Yeast | With (choose a kit) |
---
If you order the Apprentice Kit we recommend also ordering a copy of The New Complete Joy of Homebrewing at a special price! for $14.95 $11.00. This is a great book for the begining brewer. Well written and easy to read Charlie Papazian does an excellent job of explaining the brewing process. Our instructions will tell you how to use ingredients and the equipment of brewing. This book will give you some background into the brewing process and ingredients. A must have on every brewer's bookshelf.
22 oz. Bottles - Great for cutting down bottling time. This is a perfect size for splitting a bottle of homebrew with a friend. Case of 12.

---

12 oz. Bottles - The classic longneck style beer bottle. Case of 24
20 qt Stainless Steel Brewing Pot- This pot will give you many years of brewing pleasure. We highly recommend using stainless steel. Enamel works fine but it does chip easily. Aluminum pots are not a good choice because aluminum oxidizes and can cause off-flavors. We carry the 20 qt. size which is perfect for extract brewing or partial mash batches.

Back to Product List - E-MAIL US - HOME- Return to Shopping Basket or Checkout